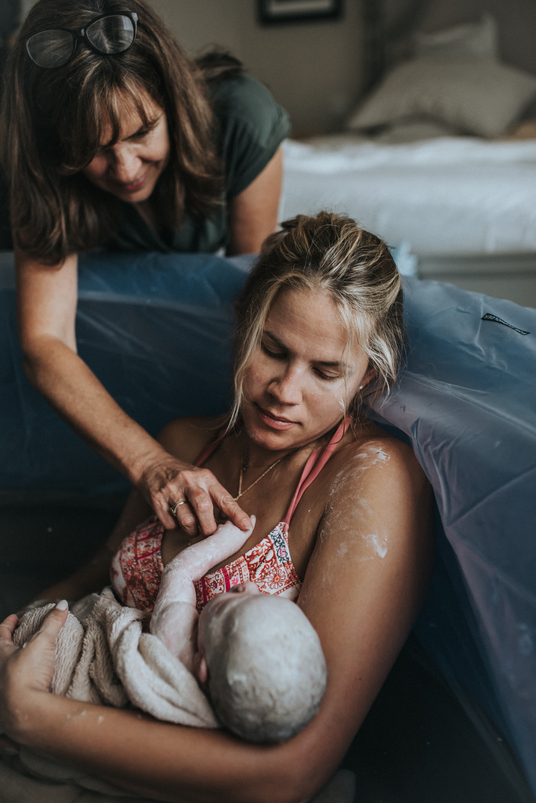 Birth Pool Hire in the Greater Los Angeles area
A Birth Pool in a Box, it is a hospital-grade birth tub that accommodates two people (and your baby). It is eco-friendly and made without latex, lead, and cadmium.
Birth Pool in a Box is the most popular choice for women seeking the safest, most comfortable birth pool that is recommended by midwives.
It comes with one disposable single use liner. The pool is made from eco-friendly material (0.38mm eco PVC Cadmium, Lead and Latex free) and meets EU regulations on maximum levels of phthalates.
The pool has 2 sets of top handles perfectly positioned to help you control your movement in labor. Birth Pool in a Box is designed without internal handles to avoid obstructing full movement. The pool also has an integrated cup holder (cup not included) which helps with hydration during labor.
How does Birth Pool in a Box work?
Great for buoyancy, Birth Pool in a Box has an internal depth of 26″, and since the sides are stiff when inflated, you can fill water to a depth of 23″.
The approximate filling time is 40 minutes to three hours (depending on your water pressure and the size of your hot-water tank). It takes approximately 15 to 25 minutes to inflate.
What is included?
Birthing pool
One single-use disposable tub liner (disposable for enhanced safety and hygiene)
Inflating pump
Submersible water pump (sump pump) to remove the used water
What you'll need to set up your birthing pool
A tarp to put underneath the tub
One standard faucet adapter that fits your faucet
Lead-free hose to fill the tub
Hose to empty the tub
Birth Pool hire price
The Birth Pool rental price is $225 plus tax ($21.38). One-way delivery or pick-up is available for $60. Otherwise, you will need to pick up from and return the tub to Dear Birth Photography in Santa Monica (please inquire for address).
Additional rental weeks: $50/week, if requested in advance
Late returns: $75/week
Refundable deposit: $75
Cleaning: You are required to clean the tub unless you purchase the cleaning option for $50. Improperly cleaned tubs will incur a $75 fee.
Terms and Conditions
The tub becomes available at 37 weeks of pregnancy and it needs to be returned after the birth, no later than two weeks after the EDD (expected day of delivery).
It is kindly requested that you return the tub shortly after the birth even if it is before the end of the rental period.
A refundable deposit of $75 is required. This deposit is due IN ADDITION to the tub rental fee and does not secure a rental reservation. It is retained to protect against damages or improper cleaning.
Additional Costs
Improper cleaning fee: $75 (cleaning instructions are provided – please follow closely
Late fee: $75/week
Damages/missing items fees: $100
Repair tub: approximately $200
Replace sump pump: approximately $60
Replace inflating pump: approximately $70
Call or email to reserve your birthing pool rental