Often times, parents come to me and wonder what are the most important guidelines to follow how to hire a Doula.
Finding the best team for your birth is one of the first and foremost important steps to achieve the birth that you envision. Because while birth is unpredictable, we have control over who we invite to be part of this sacred space and feeling safe and supported is a one of the most vital goals to protect your family and birth experience.
If you are pregnant and looking for a Doula, I hope this blog will help you figure out how to hire a Doula.
Birth is the experience of few hours or perhaps few days at most, but the feeling we carry with us after our birth will stay with us forever. So while we might have a overall loose idea of what we desire for our birth, the most important goal is that we leave the birth space feeling empowered and supported no matter how the birth actually unfolded.
If hiring a Doula has scientifically demonstrated that reduces the chance of having a Cesarean Birth and an overall better birth outcome, here are some ideas for you to consider and my best tips about how to hire a Doula, when embarking into the process of hiring your support team.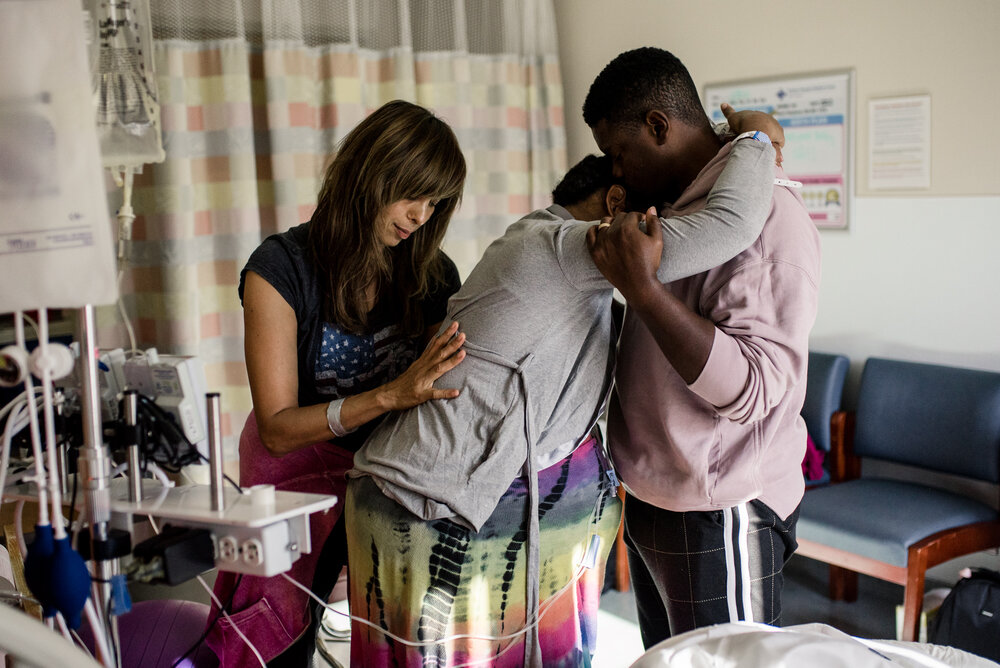 Here are 7 tips about how to hire a Doula:
1) Find a Doula who is located fairly close to you. During your pregnancy, your Doula will hold several prenatal visits to go over several topics, i.e. the physiology of birth, hospital interventions, child labor support tools, breastfeeding and/or alternative feeding methods, postpartum care, recovery after birth etc. Ideally, you'll want to meet in person and ideally you'll want to have enough prenatal visits to establish a relationship of trust and comfort.
2) Ask what are the Doula's go-to tools to support you during labor. Some Doulas have extra skills and knowledge. Whether they learned Spinning Babies techniques or are trained massage therapist, or they might offer hypnosis as part of their tool box.
3) Find out how will they advocate for you and your baby during labor, especially if you planning to birth in an hospital environment. Some Doulas will whisper suggestions in your ears and other will loudly push back against anything that might seem disrupting to your labor. Have a thought about what approach would best suit you and your family.
4) Ask what postpartum support will she provide. Some Doulas will see you at birth only. Some Doula will provide phone postpartum support and others will offer ( 2 or more ) postnatal visits. If you decide to hire a Doula who will see you only for your prenatal and birth, please consider hiring a postpartum Doula. This is especially vital if you are not able to count on any help once your baby is born. Some of us live far away from family and close friends, who would normally provide support in the shape of a village. In some instances, this may still be not ideal neither sufficient, so it is very important to consider hiring a postpartum Doula.
5) If you have already hired your medical provider or Midwife, ask your Doula if she has any experience working with them. It is important that the team members of your birth village get along and work well together!
7) What other services would you like in your Doula? Some of us are also Birth Photographers/Videographers. Would you like your Placenta to be encapsulated or transformed into art? Are you looking for someone who is both a Birth AND postpartum Doula? Some Doulas are trained to help your other children transition into being older siblings. Some Doulas will love to cook for you.
I hope these 'how to hire a Doula' tips will come handy. I love my Doula. I still reach out to her from time to time and I love that my children have seen her several times since their birth. She is part of our family and even though my births were not necessarily the smoothest all the time, I am grateful that I found her and that she was part of my birth experience.
I definitely wished I had some guidelines about how to hire a Doula when I became pregnant with my first baby! I have gathered these suggestions about how to hire a doula especially for you and from 10 years experience of being a Doula myself. I often encourage my clients to ask me these same questions, when we chat for the first time and ask what else should they be asking me!
Even though the word Doula means servant in ancient Greek, I like to think of Doula as family members, who have no strings attached and who are trained and willing to show up at our births with our best interests at heart.
They basically have a tool box of resources and skills that would make Mary Poppins blush with envy.